Six colors Central Drum Flexographic Printing Machine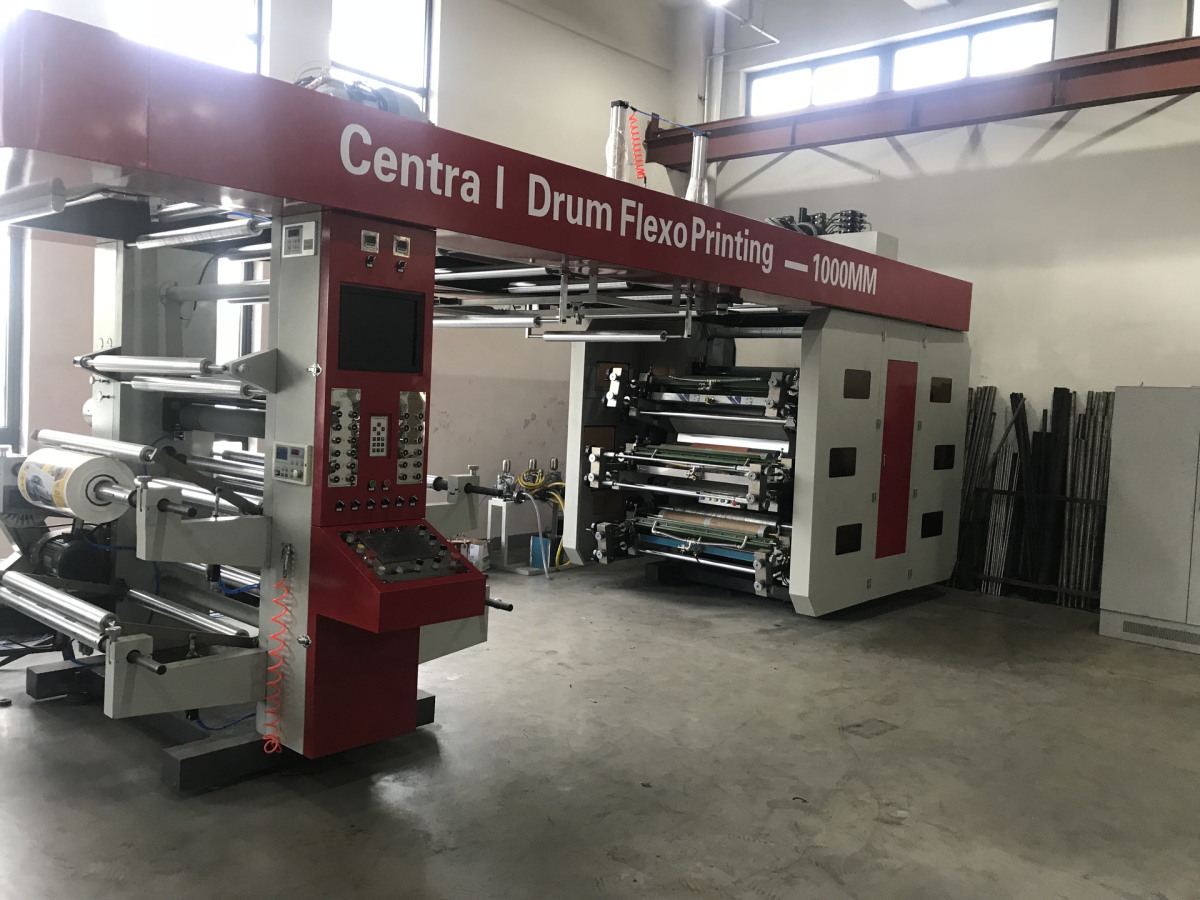 Use:
This central impression (central drum)flexographic printing machine is suitable for printing such packing materials as polyethylene, polyethylene plastic bag glass paper and roll paper etc. And it is a kind of ideal printing equipment for producing paper packing bag for food, supermarket handbag, non-woven bag, vest bag and clothes bag, etc.
Characteristics:
1. Central impression type printing machine with better color registration. Due to the big drum, the printed material is supported by the big drum, and greatly improving color registration, especially with extensible materials.
2. All colors printing station drived by the central drum, Less transmission errors because of less gear transmission, increase the registration precision.
3. Adopting high-quality motor, high-quality inverter, save the electricity, reduce the run fluctuation.
4. When the machine is stopped working, printing rolls still keep moving; when rise the printing roller ,ink motor running automatically ;when fallen the printing roller, ink motor stop running automatically.
5. The machine is equipped with blower and heater; and the heater employed central temperature control system, automatic temperature controller, and separated heat source.
6. The use of individual drying oven and cold wind system can effectively prevent the ink adhesion after printing.
7. Roller adopts special steel processing, and through special treatment, greatly reduce the beating range.
8. Printing roller uses static balance and dynamic balance processing, hard anode oxidation treatment, small resistance, beating small, achieves finally perfect printing effect.
9. Accurate printing effect achieved by special gear transmission device.
10. The printing machine all can choose advance configurations to achieve the high quality, the high-definition effect.
Main Technical Parameter:

Max. Web Width

HT-Central drum 6colors 1000mm

Max. Printing Width

960mm

Printing Length

300-900mm

Central Drum Roller

Φ1200mm

Printing Colors

6colors

Printing Plate Lifting System

Special Designed Pneumatic Pressure Control

Max. Mechanical Speed

180m/min

Max. Printing Speed

150m/min

Anilox Roller

Ceramic anilox roller

Register Precision

±0.1mm

Printing Plate Thickness

Standard 2.28mm

Unwinding/Rewinding Diameter

Φ1200mm

Main Motor

5.5kw

Rewinding Motor

3kw

Electrical Heater Power

36kw

Blower Power

1.5kw*2

Ink Motor

0.12kw*6

Power Supply

3Phase 4Line 380V 50Hz

Weight

About 8000kg

Dimension(L*W*H)

6200*2500*3200mm