1600mm Model High Speed Paper Roll Slitting Rewinding Machine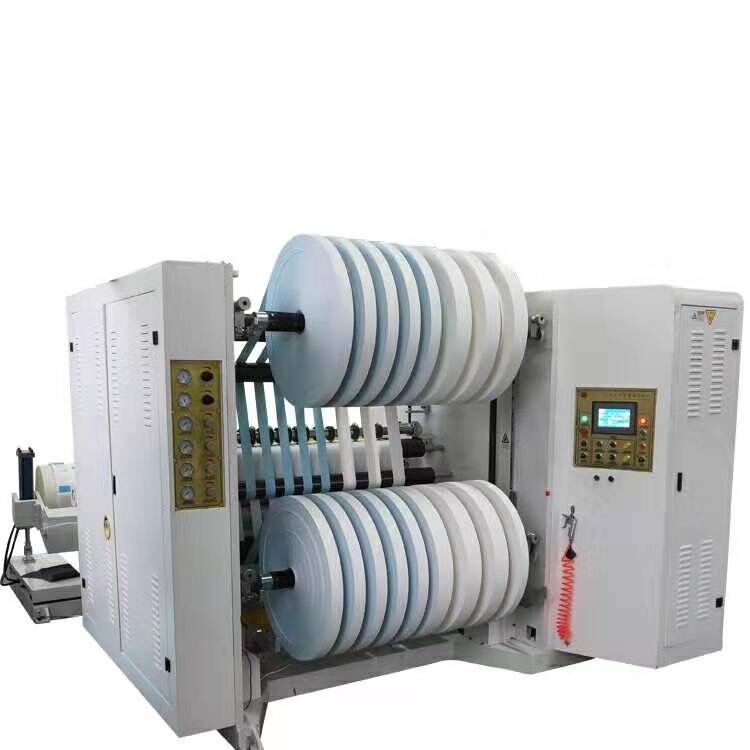 | | |
| --- | --- |
| Model | WFQ-C1600 |
| Max. material width | 1600mm |
| Slitting width | 100-1600mm |
| Thickness of material | 0012-0.2mm |
| Max. mechanical speed | 5-300m/min |
| Total power | 15KW |
| Weight of machine | 2800KG |
| Overall dimension(L×W×H) | 3500×3700×1800mm |
| Winding motor | 4kw*2 |
| Traction motor | 5.5kw |
| Max.unwind diameter | 1200mm |
| Max. rewind diameter | 800mm |
| Min. Slitting Width | 20mm(straight blade) , 30mm(round blade) |
Each parts function:

The machine consists of a rectification and unwinding mechanism,a slitting mechanism, a winding mechanism, a transmission mechanism and electrical control.
1. Rectification and unwinding mechanism:
1.1 unwinding:1600mm width and φ1200mm max diameter and shaftless hydraulic pressure loading system
1.2 Paper core clamping way:Shaftless mechanical chuck
1.3 Tension control:Pneumatic brake tension control
Output control: 200N.M pneumatic brake (with air cooling, SMC pneumatic proportional valve automatic tension control), automatic tension control by PLC touch screen.
1.4 Correction and Execution: The substrate is tracked by the photoelectric eye (analogoptoelectronics, the frame does not shake during the tracking process), and the substrate can be followed by the line, the correction signal is given by the controller, and the servo motor is executed.
Specification:
Pusher:Japanese servo motor
Photo-sensor:1pc (Germany CCD brand)
Linear Guides: 4pcs
Rectification:1set
2. slitting mechanism
2.1 knife shaft:up&down knife shaft
2.2 Locking device: With fast tooling device, it can lock the upper cutter shaft and avoid the cutting quality problem caused by the upper and lower blades being disengaged or moved.
Specifications: Rocker 1pc
Locking shaft 1pc
Matching gear 1 pair
Worm gear pair 1
Knife shaft 1 set
2.3 Discharge: use a high-pressure fan to guide the flow through the blowing pipe to eliminate the waste material
2.4 Main body: use steel plate wall panel to effectively absorb vibration, which is beneficial to high-speed and smooth operation of the machine. (50mm thickness)
2.5 Guide roller: chrome plated, polished
3. Winding mechanism
3.1The mechanism adopts a double-axis winding of the left and right shafts, and is provided with a pressure arm to balance the internal and external pressures. The drive is driven independently by two vector motors, and the single-axis tension can be adjusted arbitrarily.
Winding specifications: maximum 1600mm, &φ800mm
Paper tube clamping method: air shaft clamping (depending on customer's material specifications)
Specifications: gas rising shaft winding 2 sets
Reel pressure: differential pressure pneumatic compression, pressure can be adjusted by pneumatic pressure regulator
Specifications: pressure arm 2 pairs
Cylinder 2
Tension control: vector variable frequency motor control, automatic tension control through PLC touch screen
Winding execution: 2 asynchronous servo motors (specification 4KW)
4. transmission mechanism
4.1 The inverter is used to control the main motor to run, the speed of lifting is convenient and fast, and the speed adjustment is too soft and stable.
Drive mode: universal frequency conversion, vector motor drive