Bulk Paper Drinking Straw Packing Machine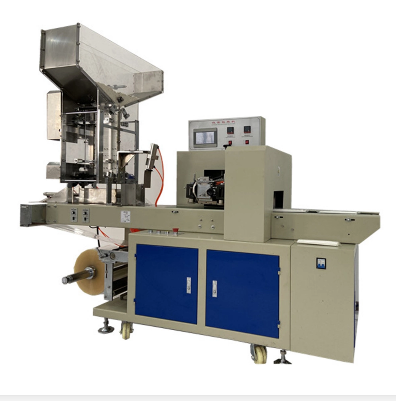 Product Application
HD-450 Bulk straw packing machine is suitable for packing numbers of plastic drinking straws, paper straws, incense sticks, pencil in one bag , 20-350 pcs can be packed together according to various diameter.What's more, PE coated paper ( plastic filmed paper) could be also used as the packing materials.
Main Features
1. It adopts PLC frequency converter with a touch-screen interface, measurement precision, electrical fault auto-detection, easy to operate and setting.
2. Drinking straws countedby counting wheel, servo motor control, more accuracy.
3. Packing speed and bag length use the double frequency converter control, infinitely variable speed, arbitrary adjustment range, can match the front-line working produce perfectly.
4. It use high-quality double-frequency simple mechanical structure, easymaintenance, long life, less wear and tear.
5.Its high-precision optical detection and tracking(film color tracking),two-way automatic compensation, accurate and reliable.
6.Intelligent products feeding detection, optimizing the online function, effectively prevent the packaging material consumption, making the device a perfect run.
7.Stainless steel conveyor table, and the main machine part of the machine are carbon-steel spray paintedcan also be operated according to the customers' requirements with stainless steel.
Machine Specification
Model

HD-450

HD-450S

HD-600

Packaging material

OPP,CPP,PE

OPP,CPP,PE

Plastic film coated paper

OPP,CPP,PE

Servo motor quantity

3

4

3

Packing Qty (for 6mm OD straw)

20-250

20-250

20-350

Package Shaping Tray

Total 2 sets:

20-100;
100-250;

Total 2 sets:

20-100;
100-250;

Total 3 sets:
20-100;
100-250;
200-350;

Cutting Knife Movement

Up and down

Rotation

Up and down

Auto stop cutting function

No

Have

No

Max. film width

450mm

450mm

600mm

Bag length

90-500mm

90-500mm

90-500mm

Packaging width

50-180mm

50-180mm

50-240

Packaging height

10-115mm

10-115mm

10-115mm

Packing speed
(Depend on packing material)

3-25 bags/min

3-30 bags/min

3-25 bags/min

Total Power

3.5kw

4 Kw

4 Kw

Machine dimension(mm)

3000*1500*1400

3000*1500*1400

3000*1500*1400

Machine weight

650KG

665 KG

700KG

Price

9500 USD

11000 USD

11200 USD

For PE coated paper bag, the max quantity of one bag for 6mm OD drinking straws is 100